Just stumbled across this article from last year's Guardian. I've edited it right down. The full version is
here.
Parents are forgetting how to play with their children, study shows
Family games becoming 'lost art' as survey cites overwork, boredom and generation gap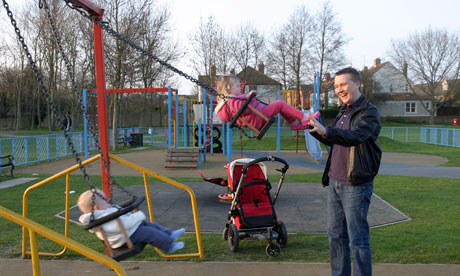 One in five parents say they have forgotten how to play with their
children
, with a third admitting that taking part in games and activities with their
family
is boring, according to research.
But while more than half the children questioned for the report by
Professor Tanya Byron
said they want more quality time with their parents, one in 10 said they know that their parents feel family playtimes are dull and a waste of time.
The State of Play, Back to Basics report interviewed 2,000 parents and 2,000 children aged five to 15 about their play habits. It concludes that play is in danger of becoming a "lost art" for British families, with 21% of parents admitting they no longer remember how to play and struggle to engage their children in creative and imaginative activities that will help their development. ...
"Nearly one in three parents choose to play computer games with their children thinking that's what their kids will most enjoy," said Byron. "However, nine out of 10 children said computer games were something they would rather play on their own, while three-quarters said they would prefer to spend time with their parents enjoying more traditional pursuits, such as challenging each other at board games or playing outdoors together."
Time pressures were also cited by parents, with half of those interviewed blaming work and chores for reducing the amount of quality time they are able to spend with their children. Nearly a third of children said that they were aware that work worries prevented their parents from playing with them.
Play is super important for healthy development during childhood, for wellbeing and fulfilment throughout life, and for the quality of the parent-child relationship.
We should get a move on with our parent-child play workshops.